'BURGH
Mar. 19, 2018 01:46PM EST
PIXABAY
Grab a bite
Among Amazon HQ2 cities, Pittsburgh ranks 10th for late-night eats
There's nothing like a late-night snack.
---
And when Amazon goes to pick the city it will call its second home, it's very likely they're gonna consider being able to pick up some food in the wee hours (those digital folks are always working).
So, Pittsburghers can be pretty proud of the fact that the 'Burgh did pretty decently when compared to the other cities up for the honor.
FourLoko — yep, the alcoholic beverage company — has put up the results of a survey from marketing agency Digital Third Coast that took the cities still vying for Amazon's HQ2 — and Pittsburgh lands at No. 10 (among 20 major U.S. cities).
Digital Third Coast's team took into consideration the number of late-night restaurants, cuisine variety, average Google score, closing times, the number of 24-hour restaurants, and transportation.

Pittsburgh's 50+ eat-spots averaged a closing time of 2:10 a.m., with nine cuisine varieties and a 4.2 Google average rating. We only had one 24-hour eat spot on the list — Ritter's, we're guessing.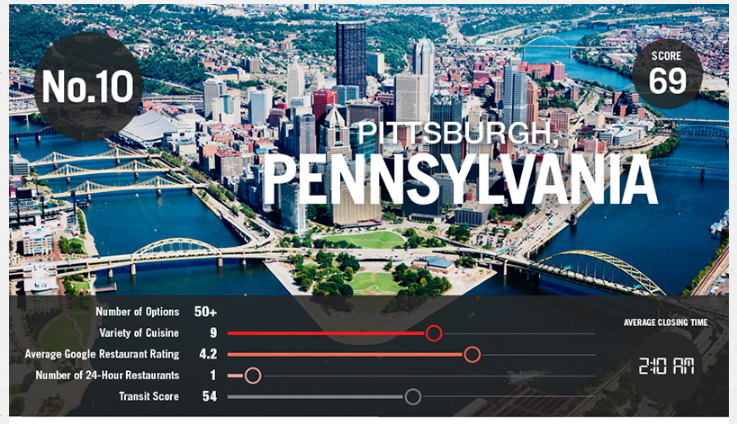 The No. 1 city was Washington, D.C., followed by New York, Chicago, Miami, Boston, and Los Angeles.
Philadelphia — of all places — came in seventh.