MONEY
Jan. 31, 2017 08:43AM EST
TORY N. PARRISH/UPGRUV
Moving Forward
The struggles of being carless in Pittsburgh
Asia Lloyd has to have a plan.
---
Living in Whitehall without a car, she makes sure she leaves her apartment early enough to take the hour-and-a-half trip by bus, which includes a transfer downtown, to get to her job in housekeeping at UPMC Presbyterian in Oakland on time.
Lloyd, 21, works the 10 p.m. to 7 a.m. shift full-time.
On Sundays, the buses in Whitehall stop running at 5 p.m. "Usually on Sunday, I have to catch a bus over to my mom's (in Clairton) and go to work from there. Or else I won't have a way to get to work," she says.
Lloyd is among an estimated 6 percent, or 36,619, of Allegheny County workers who don't have access to automobiles to get to their jobs, according to 2015 Census Bureau figures.
She has to have a plan for grocery shopping, too: If she needs more items than she can carry by herself on the bus, she must take an "expensive" Uber trip to Walmart.
"It's different when you have a car and you don't have to plan your schedule around taking the bus all the time," Lloyd says.
For Tracey Ekwunoh, 21, maneuvering around the city without a car is an inconvenience she's learned to manage, the Brentwood resident says.

She takes a bus five nights a week to her full-time job as a housekeeper at the Hillman Cancer Center in Shadyside, as well as to most of the other places she goes.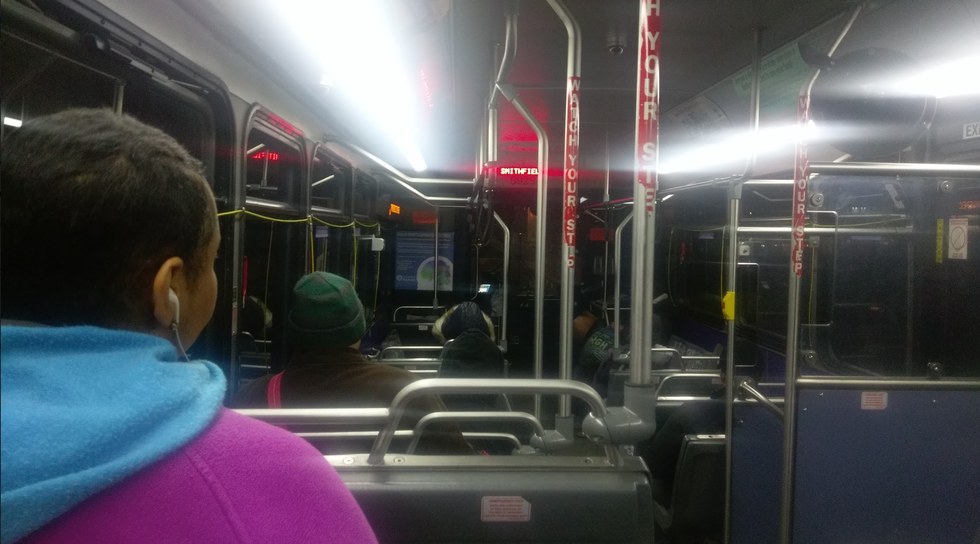 Ekwunoh commutes from Brentwood to her housekeeping job in Shadyside. (Tory N. Parrish/Upgruv)
"I've been riding the bus my whole life. My mom didn't drive growing up. For me, I don't look at it as a problem. You just add it in to what you're used to," she says.

Lloyd and Ekwunoh are among a growing number of working people in Allegheny County who don't have access to cars. They get where they need to go on Port Authority buses, light-rail trains and inclines; by foot or bike; in jitneys and, in recent years, via ride-sharing services Uber and Lyft.
The percentage of workers in the county without cars increased 12.5 percent to 36,619 people between 2010 and 2015, while the total population of workers only increased by 6 percent, according to Census Bureau estimates.
"My impression right now is that people can live in Pittsburgh without a car, and many residents do," says Molly Nichols, community organizer at Pittsburghers for Public Transit, a grassroots organization. "Some do by choice, but the majority of the time it's a financial necessity that they're unable to afford."
Overall, 29 percent of all Port Authority of Allegheny County transit riders don't have access to vehicles, according to agency data.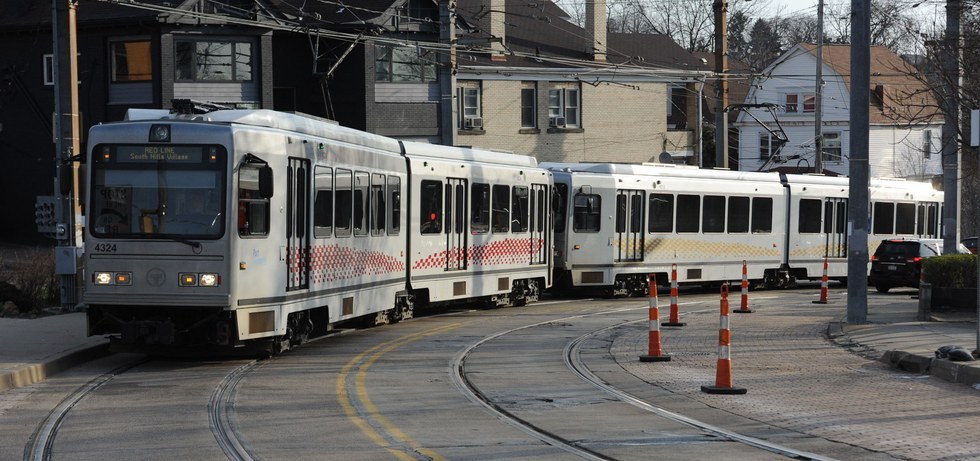 It's the T for a lot of folks. (Tribune-Review)
It's bad enough without a car, but Pittsburgh's hilly terrain and busy streets — some without sidewalks — make it even tougher.
Overall, Nichols says, the frequent service network in Allegheny County's transit system is "pretty decent. But if you're outside of those frequent service networks, it makes it much more challenging."

While neighborhoods like East Liberty and Oakland have fixed-route service to major job centers, spots outside city limits have less frequent service forcing commuters to piece together different transportation options, such as ride sharing, cycling, flex shuttles and public transit, says Carly Dobbins-Bucklad, senior policy analyst at the Allegheny Conference on Community Development.
She's also a project manager for the Regional Transportation Alliance for Southwestern Pennsylvania, which, in March, will release the results of an 18-month study, Imagine Transportation 2.0, to improve transportation options to attract and retain residents in the region.
"People are increasingly interested in having another option to not having to drive and park," she says.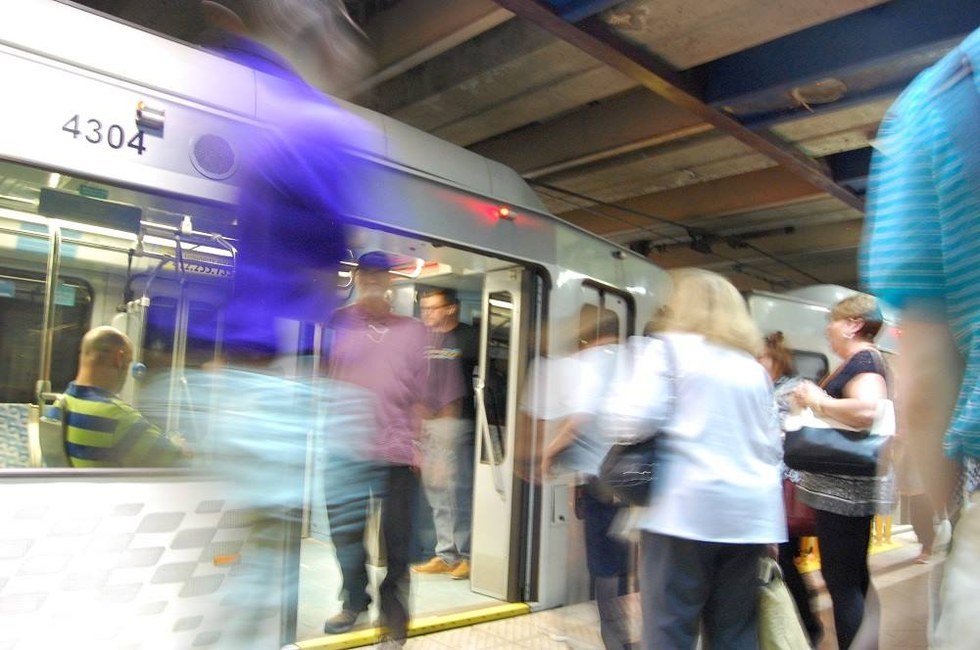 (Port Authority of Allegheny County)
Nichols cites Penn Hills, Mon Valley, West Mifflin, McKees Rocks, Stowe and parts of the North and South Hills where public transit options are fewer.
Starr Magwood, 26, and her two children, 5 and 7, live at the Mifflin Estates apartment complex in in West Mifflin. There hasn't been public transportation there since 2011.
The nearest bus stop is about a mile away and requires walking along a busy road without sidewalks.
She takes online classes at the Community College of Allegheny County, which limits the course load she can take for her early education and childhood development program.
"That's my only option to be able to go to school and get the kids off the (school) bus," says Magwood, who is working with Pittsburghers for Public Transit to try to restore service to her community.
Magwood relies on the bus, Uber, Lyft, jitneys, her family and friends for transportation. Taking care of tasks for herself and her kids can be challenging, but she considers herself lucky to have those options.
"But, unfortunately, there are a lot of people up here who are stuck," she says.
Public transit is a crucial mode of transportation in the Steel City, where 62.3 million bus, rail and incline rides were given in fiscal year 2016.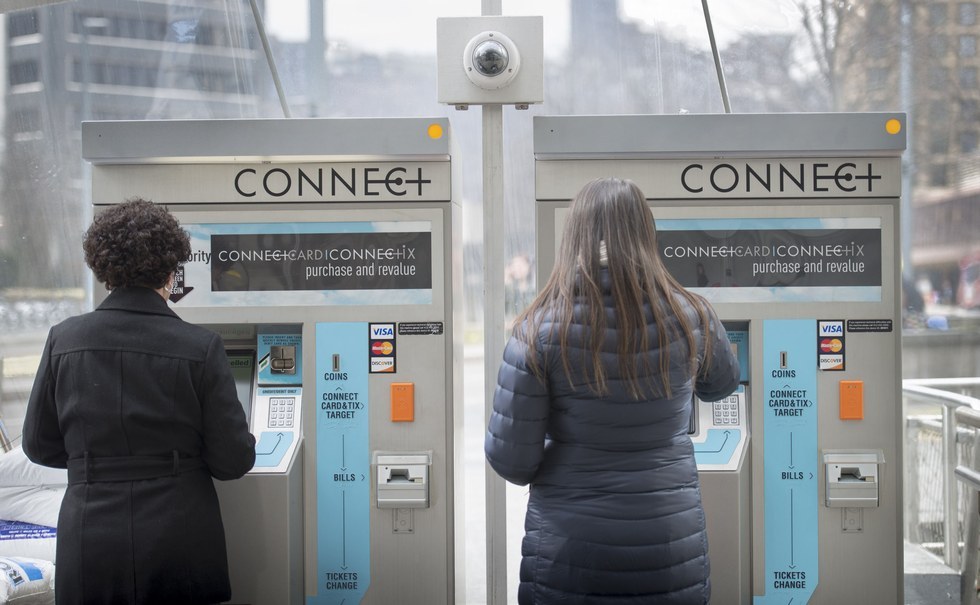 Riders make the connection at Gateway Station, downtown. (Tribune-Review)
Overall, Pittsburgh has "good bones" for its transit system because it developed around an extensive network of street cars and development sprung up around sprawling patterns and corridors, says Pittsburgh native Art Guzzetti, currently the vice president for public at the American Public Transportation Association in Washington, D.C.
About 25 percent of Port Authority riders are low-income, but a growing number of commuters nationwide, especially young adults, are foregoing car ownership by choice, not necessity.
"Millennials are more practical. They will take a trip that works best for them. It's not that they they're predisposed to transit, but they've very open to (it)," Guzzetti says.
For some, the average cost to maintain a car — $10,000 annually nationwide — isn't worth the trouble.
One of those carless millennials, Morningside resident Ben Turin, 26, says he's putting his paycheck to better use in the long-run.
"I can devote my money to student loans instead of a car payment," he says.
He's putting a bigger dent in his student loan debt with the money he saves by splitting his housing costs with two roommates and paying $97.50 monthly for unlimited bus rides, which is how he gets to his job as a systems analyst at UPMC Downtown.
The bus doesn't come as frequently as it did in his old neighborhood, Bloomfield, but he makes do. His roommates have cars, so he can catch rides to the grocery store and other places with them.
"If I was living by myself in Morningside and didn't have roommates to assist, it would be much harder," he says.