UPGRUV

beer us
Drinking and (not) driving: City Brew Tours launches in 'Burgh
Get chauffeured around. Drink beer. Get paid to do it.
Seemed like a pretty solid Wednesday. (We made a video of it, check it out at the end of the story)
Fellow alcoholic beer aficionado Chris Pastrick and I jumped at the chance to take a City Brew Tours trip ahead of the company's rollout in Pittsburgh on Friday.
---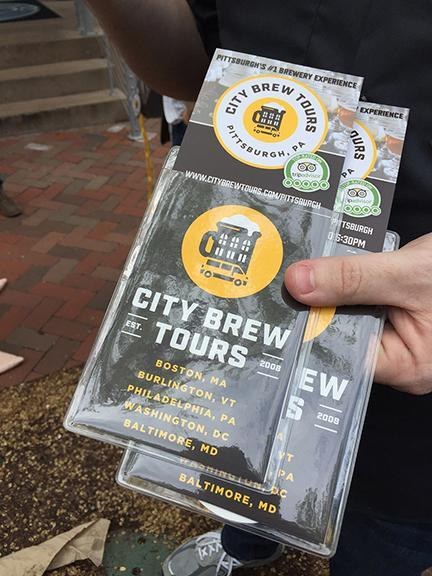 We got a golden ticket ... (upgruv)
We immediately were greeted at our Market Square gathering point by Barry Hansen, City Brew chief operating officer and our driver and "beer guide" for the day.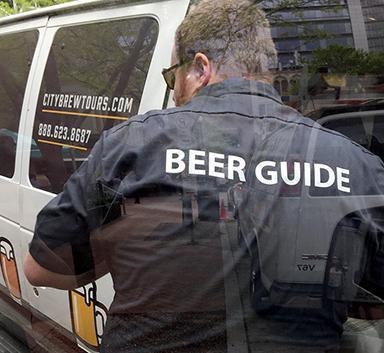 We need one of these shirts. (upgruv)
(Because we were having lunch on the trip, Barry asked us about any food allergies, because, you know, nothing kills a buzz quite like anaphylactic shock.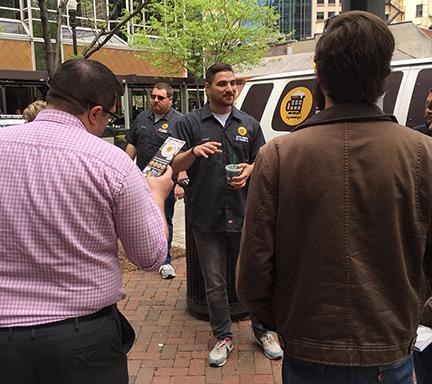 Chad and Barry (in the shades) were our fearless leaders. (upgruv)
Once we were aboard the van, Barry and company founder Chad Brodsky, who founded City Brews Tours in 2008, promised us we have "drinking buddies in 20 minutes," so we started with a round of introductions, which included our favorite beer and who we'd most like to throw one back with.

One attendee — we liked her, so we won't mention her by name — told the group her favorite beer was Keystone Ice.
We're pretty sure our new friend Chad was biting his knuckles and clenching his teeth when responded: "You're on the wrong tour!"

With acquaintances made, we were off to our first stop.
Aurochs Brewing Co., Emsworth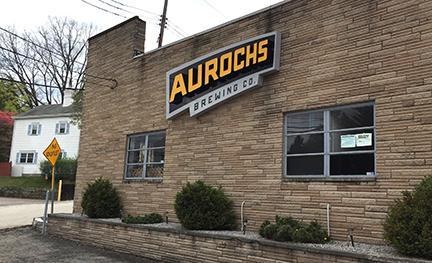 On a diet with no gluten? No problem!
Everything at Aurochs — down to the pretzels on the bar — is free of gluten, an idea born because neither Ryan Bove nor Doug Foster, partners in the business, can tolerate it.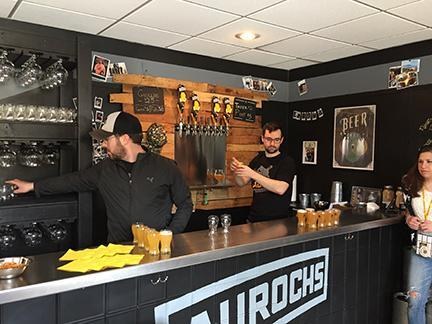 Ryan (Mr. Hat) and Will doled out the charm. (upgruv)
Brews at Aurochs are made from quinoa and millet. Most gluten-free beers are made from sorghum, which typically causes an undesirable bitterness, Ryan explained.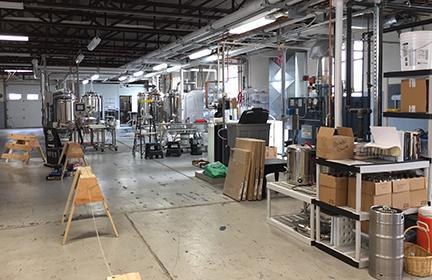 Don't be bringin' no gluten in here. (upgruv)
If you're looking for Aurochs on tap, good luck. Because Aurochs is leery of gluten contamination in beer lines, few establishments carry it. A few that do: Arsenal Cider House in Wexford, Franktuary in Lawrenceville and Pig Iron Public House in Cranberry.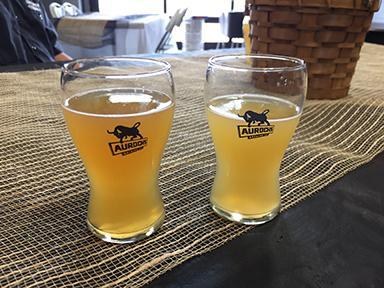 Your samples on City Brew Tours are 4 ounces of fun. (upgruv)
We tried a number of beers at Aurochs — Wit, Blonde Ale, Session IPA and Nitro Porter — and none lasted long.
Jill's favorite: Blonde (4.6% ABV)
Chris's pick: Nitro Porter (5.8% ABV)


Hop Farm Brewing Co., Lawrenceville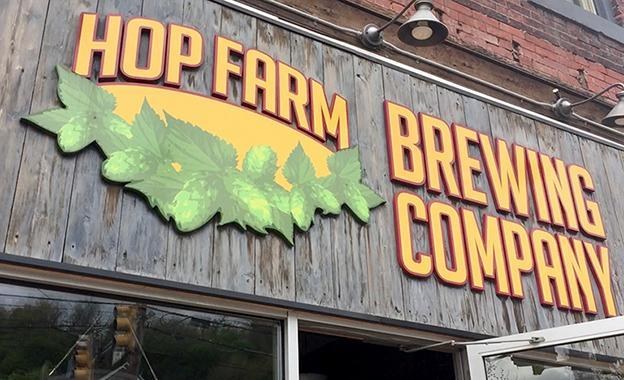 Next stop? Down Route 65 and up Route 28 to Hop Farm, where owner Matt Gouwens gave us a crash course in Hop Farm's brewing process ...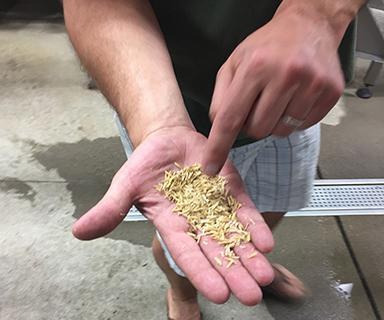 Matt and his barley lowdown. (upgruv)
... and how to pairs brews and bites.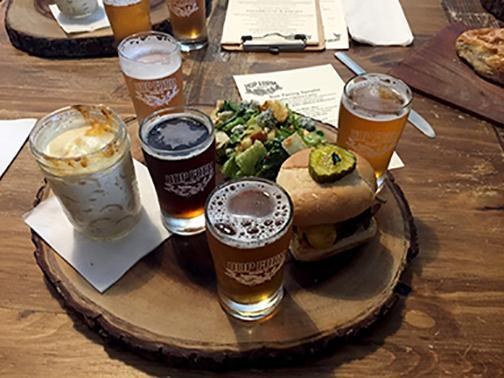 Out of our way ... food. (upgruv)
We finished off our plates like we just got out of prison.
With the to-die-for Buffalo Chicken Caesar Salad, we had the Hippy Heffer, brewed with hibiscus; the One Nut Brown ale perfectly complemented the Real Gouda Beer Mac, served in an uber cute Mason jar; we washed down a burger slider with a Small Crop Session IPA; and for a savory dessert, we paired the house-made pretzels with the F-41 Cream Ale.
Jill's favorite: Hippy Heffer (6% ABV)
Chris's pick: F-41 Cream Ale (4.5 ABV)


Draai Laag Brewing Co., Millvale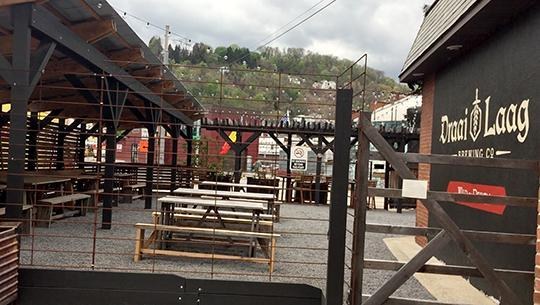 Thank God we got some food, that's all I'm saying.
Our tour concluded at Draai Laag, known for its "wild ales" brewed using French and Belgian techniques.
Kelly, our pourer, told us we were getting smaller samples because many of Draai Laag brews "sneak up on you," which is just a polite way of saying they'll knock you on your ass fast.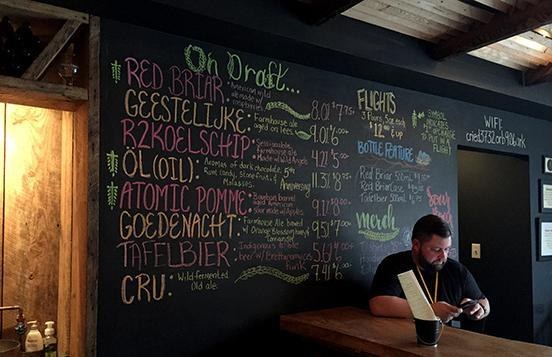 Pick your ... deliciousness. (upgruv)
Not that that's a bad thing.
Belgian beers tend to be on the sour side, so we tried the R2 Koelschip farmhouse ale first and worked our way up to the Red Briar ale, trying the Geestelijke farmhouse ale in between.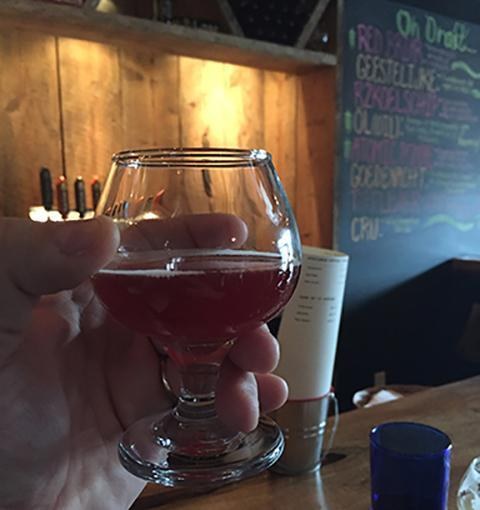 Here's lookin' at you, Red Briar ale. (upgruv)
We finished with the Ol (pronounced oil) stout, brewed specifically for Draai Laag's fifth anniversary. We nearly lost our buzz when Kelly broke the news that Ol — made with local maple syrup — is nearing the end of its run.
Jill's favorite: Ol (11.3% ABV)
Chris's pick: Geestelijke (9% ABV)


Our verdict

We loved being tourists in our own city for the afternoon. (And that's not the beer talking.) If you have a chance to take a City Brew Tours trip — go. Trips cost $99, hit four stops and last about five hours. But not having to drive yourself around while drinking? Priceless.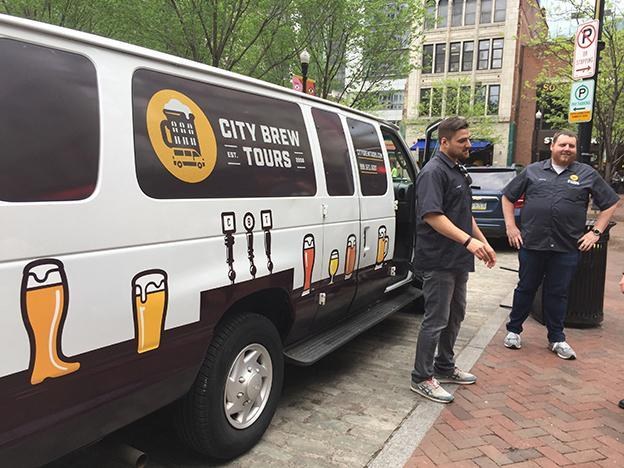 We'd follow Chad and Barry anywhere. Well, they did give us beer. (upgruv)
Nine breweries in the Pittsburgh area are participating: Aurochs, Hop Farm, Draai Laag, Allegheny City Brewing, Penn Brewery, Hitchhiker Brewing Co., Spoonwood Brewing Co., Couch Brewery and Grist House Craft Brewery. More will be added in coming months.
Don't confuse these tours with a drunk bus, though. You'll learn a lot about the history of beer and the brewing process (and, of course, get a nice buzz).
Wanna see what's it was like? Ride with us — as Chris and Jill hit the road with City Brew Tours: