'BURGH
Jan. 06, 2017 06:30AM EST
DANCING GNOME
Tight Squeeze
Is craft brewery growth tapped out in Pittsburgh?
Pittsburgh has been drinking it up.
The Steel City is one of the biggest consumers of craft beer produced by Southern Tier Brewing Co., a Lakewood, N.Y.-based brewer that has sold its product in Pittsburgh stores and restaurants for more than a decade.
"Pittsburgh is a tremendously vibrant market for us," Southern Tier spokesman Nathan Arnone said.
It made sense for the brewer, which produces 100,000 barrels of beer a year in upstate New York, to build its first out-of-state brewpub in Pittsburgh, he said.
Set to open on the North Shore by the end of this month, Southern Tier Brewing Company – Pittsburgh is one of an estimated 100 craft breweries that will have opened in Pennsylvania since 2013, according to the Brewers Association, a Boulder, Colo.-based group that represents mostly small and independent brewers.
Some observers, however, wonder if the market has hit its saturation point in the Pittsburgh area.
In the Pittsburgh region, dozens of craft brewers have opened in the past few years. Allegheny City Brewing opened in September on the North Side; the Dancing Gnome brewery and taproom in Sharpsburg, in October; and Helicon Brewing Co. in Oakdale, in November.
Mindful Brewing will open Jan. 17 in Castle Shannon, and Eleventh Hour Brewing is set to open its doors in the spring.
"I would say we've hit the saturation point. Others would disagree," said Linda Nyman, co-owner of Penn Brewery, a North Side-based craft brewery and restaurant whose brand started in 1986.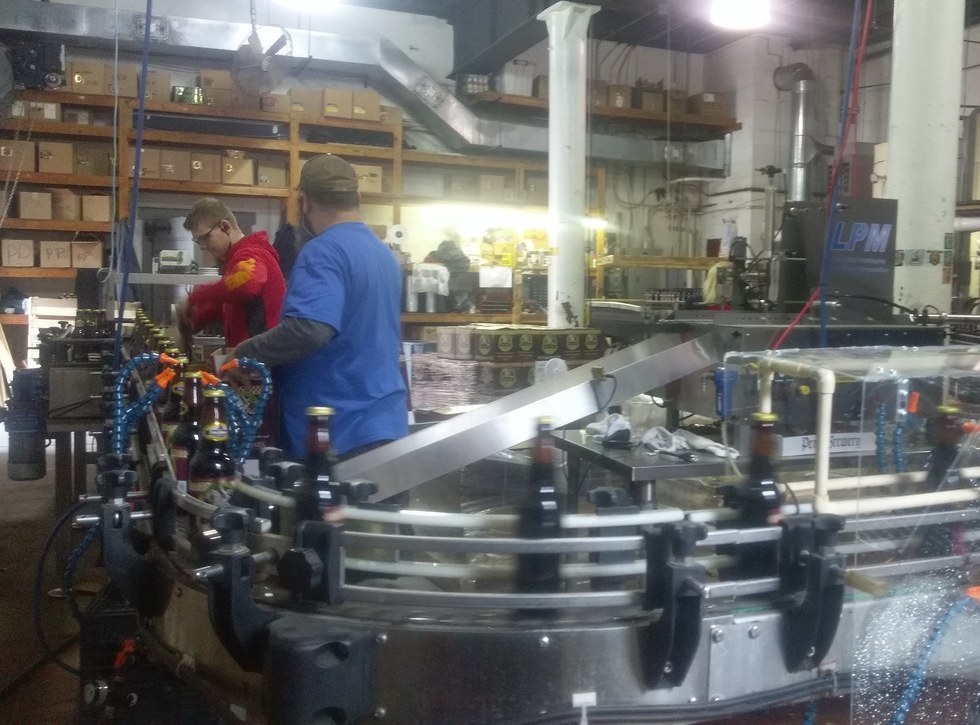 Austin Ledergerber (left) and John Checkeye work on a bottling line at Penn Brewery on Thursday. (Tory N. Parrish | upgruv)
Nationwide, craft breweries, which the association defines as small, independent businesses that each make less than 6 million barrels of beer annually, have been booming for several years as consumers, particularly millennials, seek the fuller flavors, wider varieties and locally sourced ingredients that they offer, said Bart Watson, chief economist for the association.
In Pennsylvania in 2015, there were 178 operations, including microbreweries and brewpubs, that fit the association's definition of craft breweries, compared to 108 in 2013. It's estimated that there are at least 200 now, Watson said.
The Pennsylvania Liquor Control Board issued brewery licenses to nine establishments in Allegheny County in 2016, and three applications are pending in the county now.
Finding a niche

New brewers see a booming restaurant and nightlife scene in Pittsburgh, making it ripe for specialty beers. After all, Zagat named Pittsburgh the nation's top food city in 2015. Beer and good food go hand in hand.
The nightlife is led by millennials, who are willing to pay more for craft products than their older counterparts: The average price for a case equivalent of craft beer is $41.97 in Pennsylvania, while domestic premium, such as Budweiser or Miller, is $22.91, according to analysis of IRI Group data by the Brewers Association.
Andrew Witchey, a former fashion retail photographer and videographer, 28, saw the craft beer industry as an opportunity to do something he loved when he opened Dancing Gnome a few months ago.
He compares the craft brewery industry to the coffee chain market: While there seems to be a shop on every corner, there is still room for growth for businesses that find their niches — and focus on being hyperlocal operators in their communities — to attract customers.
"Why should they leave their area and come to you if you're doing the same thing as everyone else?"
Dancing Gnome's niche is "hop-forward beers," which means hops are the primary flavoring component, as opposed to malt or yeast, he said.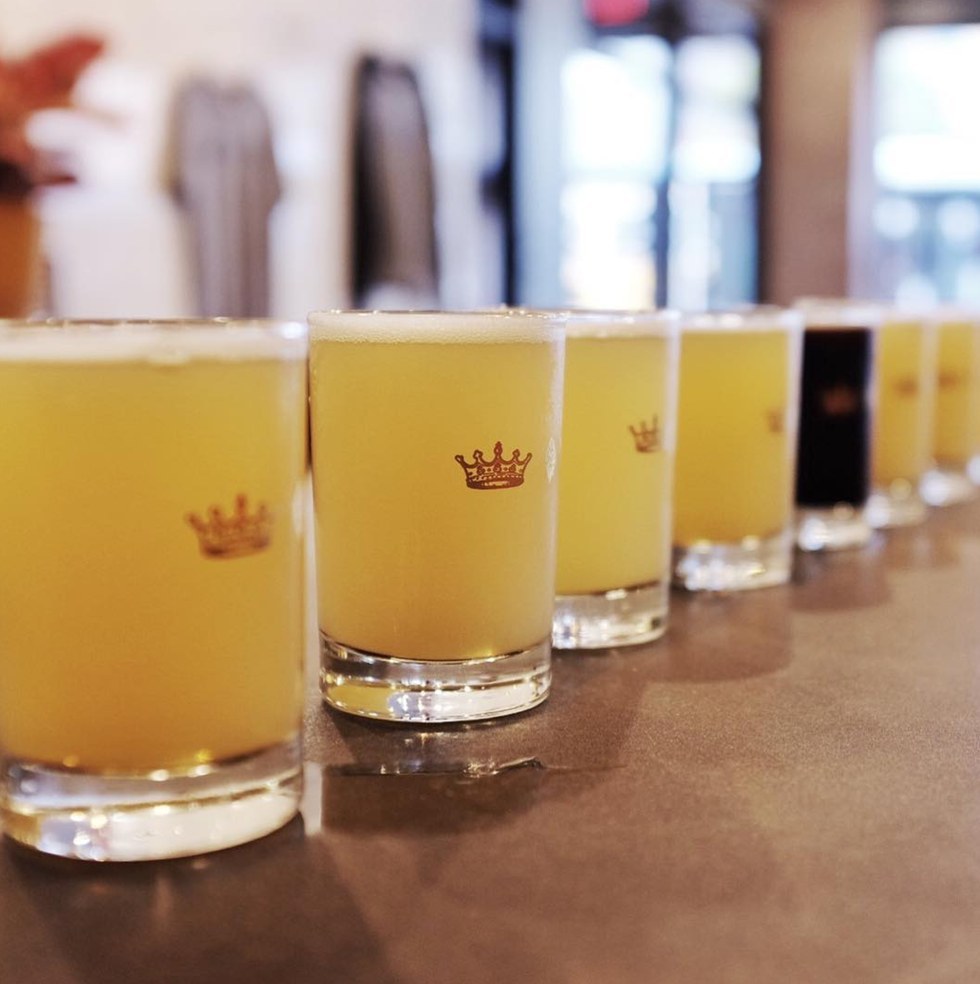 Beers line a countertop at Dancing Gnome, a craft brewery and taproom that opened in Sharpsburg in October. (Dancing Gnome)
Dancing Gnome produces about 20 barrels of beer a week and keeps eight brews on tap.
It doesn't sell food, but Witchey has partnered with food truck owners who sell their fare to beer drinkers. The operations benefit from each others' customers, Witchey said.
Pittsburgh's increased brewery competition is a double-edged sword, said Nyman, who, with two partners, bought Penn Brewery in 2009.
"You know, I think that the growth in the number of brewers and the number of beers available has increased people's awareness of the craft beer segment, and it's gotten a lot of people excited about craft beers," she said.
On the other hand, the onslaught of craft beer competitors makes it harder to get distributors to carry Penn Brewery's brand, including its Penn Pilsner, because they have limited room in their warehouses. It's also more difficult to get restaurants to put its products on tap for the longterm because there are so many more brands from which to choose, she said.
Penn Brewery, which produces about 10,000 barrels of beer a year, has remained competitive by expanding its products beyond traditional German-style beers; adding more seasonal beers, such as pumpkin ale roll and tangerine swirl; re-opening the restaurant; and expanding to other markets, such as West Virginia.
"We're the oldster on the block, so it's important that we're attracting younger consumers and appealing to older consumers," Nyman said.
Pittsburgh hasn't hit craft beer saturation for taprooms just selling drafts but for production breweries, the market has hit the ceiling, she said.
"It may well be worse in other places because other places have a higher concentration of breweries," she said.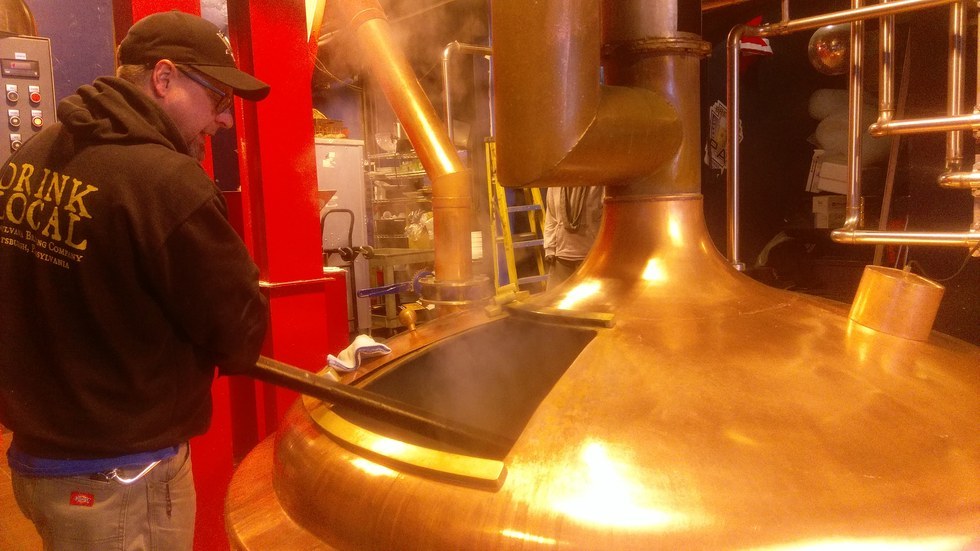 Steve Christ measures wort, or unfermented beer, in a brew kettle at Penn Brewery. (Tory N. Parrish | upgruv)
Watson, however, said there are still opportunities for new players —small, locally focused producers that make a couple thousand barrels a year, differentiate themselves and don't rely on just brewpubs for sales.

Craft brewing is capital intensive, and competition for spots on store shelves and on taps is tight now, so anyone expecting to come into the market being the next Yuengling, which is Pennsylvania's largest craft brewer and the oldest brewery in the nation, will be disappointed, he said.
Laws help drive growth
Recent changes in state law have made it much easier for brewpubs to operate than restaurants and bars with retail liquor licenses, which is driving craft brewery growth, said Amy Christie, executive director of the Pennsylvania Licensed Beverage & Tavern Association, a Harrisburg group that represents more than 2,500 corner bars, ski resorts, restaurants, nightclubs and other businesses with retail liquor licenses statewide.
"They've basically allowed craft breweries, like brewpubs, to be bars serving wine and spirits without having to put out for the cost of a liquor license. That's why you're seeing such a huge number of them opening," she said.
Under Act 39, which went into effect Aug. 8, a brewery in Pennsylvania has to acquire an $1,800 brewery license from the state Liquor Control Board.
However, in every county in Pennsylvania except Juniata, a restaurant or bar seeking a retail liquor license must buy one from a closing business in the same county because the counties have exceeded state quotas — one license per 3,000 residents.
There is no limit to what the retail liquor license can be sold for. One in Cumberland County recently sold for $500,000, Christie said.
Also, the municipality in which the restaurant or bar wants to operate has to approve the liquor license transfer, but that's not the case for brewpubs.
Brewpubs now are allowed to sell any wine, spirits or other craft beer produced in Pennsylvania, and they can mix those drinks to make cocktails.
"So, right there, it's so much more attractive than having to do the food and the health department and the seating and all that is tied to a liquor license. It's just cheaper, easier and more profitable," Christie said.
Pennsylvania's market for smaller beer producers also was widened by a 2011 change in state law that reduced the minimum amount of beer that had to be brewed on site for a business to receive a brewer's license, from 15,000 to 250 barrels.