'BURGH
Oct. 25, 2017 12:05PM EST
LIGHT OF LIFE VIA FACEBOOK
Searching for a home
'Eye of the Needle' shows struggles of Pittsburgh's addicted, homeless
It's sadly fitting: An exhibit on addiction and homelessness in Pittsburgh — that can't find a home.
---
But, judging from the public's initial reaction, it might not take long.
It all started two years ago. Jennifer Schlieper was shocked by what she saw in Downtown Pittsburgh.
"I'm walking to Market Square, and I'm watching people pass out right in front of me," she says.
The opioid epidemic that has struck the nation has made its way into her life — and not just as she goes about her day in the city – says Schlieper, who lives and works Downtown.
"In the last three years, I've lost three people who were close to me with heroin overdoses," says the co-founder of Flying Scooter Productions.
About 2½ months ago, Schlieper decided she wanted to help people in Pittsburgh tell their stories of addiction and homelessness. So, she spearheaded the creation of an interactive art installation that aims to give visitors a glimpse of life in a homeless camp.
The art installation includes two homeless tents the team created with clothing, couches and other items collected from the streets: one tent is heated for a simulated experience of being homeless on hot summer days, while the other is chilled to simulate the experience of homelessness on a cold winter day.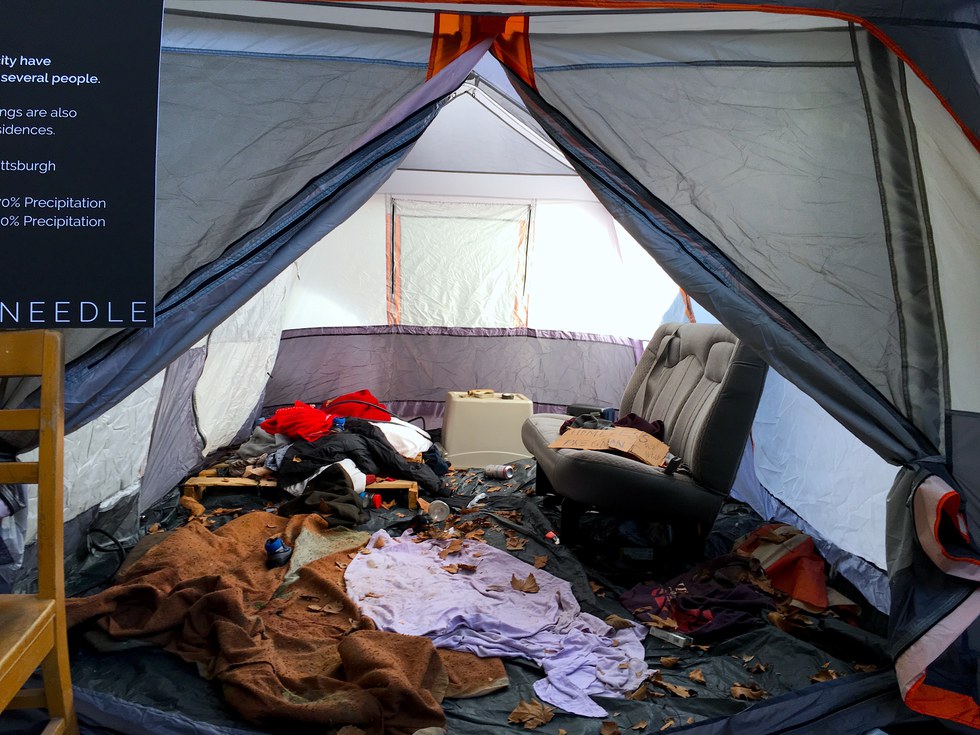 (Light of Life Rescue Mission)
The other part is an 11-minute documentary called "Eye of the Needle," which mostly features people in homeless camps to illustrate the pervasiveness of substance abuse.
Posted last week on the Light of Life's Facebook page, the documentary already has more than 66,000 views.
"I just think about my mom," says one man, a heroin addict, in Schlieper's documentary. "I'm all the way up here, you know, far away from my family. That's the last thing she needs — to identify one of her kids ... in a body bag."
Schlieper and a team of independent photographers and videographers, including Phil Atkins and Emmai Alaquiva, donated their services to capture videos and photos for the project, which was done in partnership with Light of Life Rescue Mission, a North Side-based provider of shelter, food and social services for people in need.

The exhibit also includes a 4x4x8 sound booth with recorded voices expressing the anguish of addicted homeless people.

The exhibit's name is a reference to drug paraphernalia, Schlieper says.

But it's also a reference to biblical scripture from Matthew 19:24-26, in which Jesus tells his disciples that it is easier for a camel to pass through the eye of a needle than to enter the kingdom of God — but, with God, all things are possible.
"Eye of the Needle" debuted at Light of Life's More Than a Meal Gala & Fundraiser at Heinz Field on Oct. 17. But after that, the exhibit itself became homeless.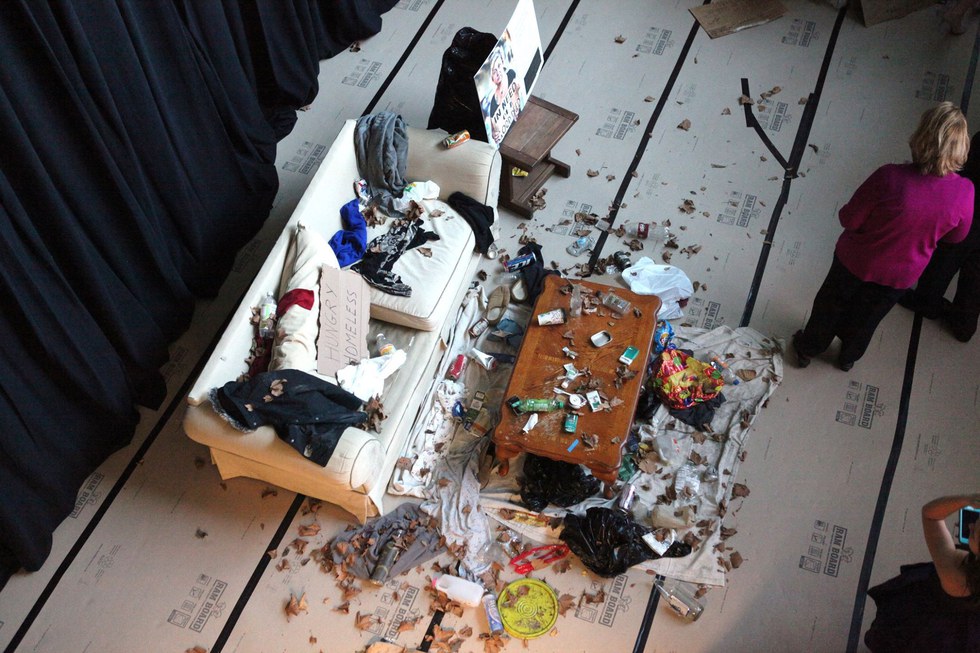 (Light of Life Rescue Mission)
The rescue mission is contacting local art galleries to request that the installation be exhibited in their spaces, says Kate Wadsworth, the mission's spokeswoman.
"We believe this is a very important piece for upping the level of conversation," she says.
More and more of Light of Life's clients are battling opioid addiction, she says, so the exhibit is needed to raise awareness about how addiction impacts lives. Since January, 213 of the 290 applicants for Light of Life's Men's Residential Program have reported using opioids, Wadsworth says.
Of the 37 women served in Light of Life's Women & Children's program in 2016, heroin was the drug of choice for 28.
The rescue mission helps people in addiction and their loved ones find resources, or ways to get involved in helping, through lightoflife.org/lightline or even just by calling 888-412-0036.