AP
too much celebrating?
Steelers coach Joey Porter placed on leave after South Side arrest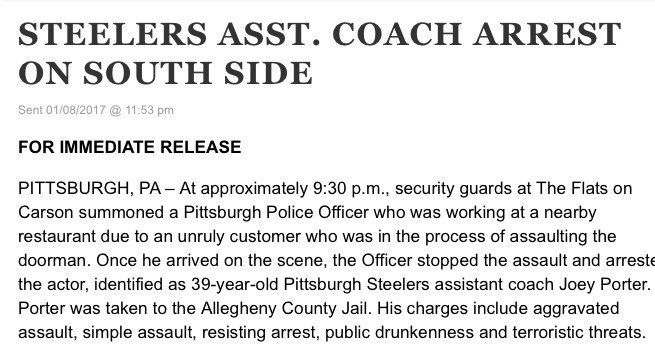 Pittsburgh Steelers linebackers coach Joey Porter, arrested Sunday night on the city's South Side over an altercation with a city police officer, has been placed on leave by the team.

A series of tweets was sent by Beaver County Times sports reporter Chris Mueller around 9:30 p.m. Pittsburgh police later confirmed Porter was taken into custody.
#Steelers assistant coach Joey Porter has been put in the back of a cop car in the south side for an altercation with a police officer
— Chris Mueller (@ByChrisMueller) January 9, 2017
The incident occurred outside The Flats bar on East Carson Street #Steelers
— Chris Mueller (@ByChrisMueller) January 9, 2017


The police car with Porter in it just left. He was put in handcuffs. #Steelers
— Chris Mueller (@ByChrisMueller) January 9, 2017
According to eyewitness reports, Porter had been asked to leave the establishment several times and did not, and police were called to assist, the Pittsburgh Post-Gazette reports.
Porter was taken to the Allegheny County Jail. He was charged with aggravated assault, simple assault, resisting arrest, public drunkenness and terroristic threats.
He was released early Monday morning after posting $25,000 bond. He is scheduled to appear in City Court, Downtown, on Jan. 19.
Craig Johnston of the South Side told the P-G he was walking home when the scene unfolded in front of him.
Johnston said that Porter and a Pittsburgh police officer exchanged words, with Porter repeatedly saying "I didn't put my hands on him."


"We are aware of an incident tonight involving Joey Porter. We are still gathering information as it pertains to the situation, and we will have no further comment until we get more details," said Burt Lauten, director of communications for the Steelers.

Earlier in the day, the Steelers beat the Miami Dolphins, 30-12, in an AFC Wild Card game.