the Trib's Jerry DiPaola tells us why...
Pitt's James Conner is a Pittsburgh Steeler. So we asked a Pittsburgher who knows a lot about the football programs that occupy the Rooney Sports Complex for his thoughts on the feel-great story of the 2017 NFL Draft.
James and the Steelers as only the Tribune-Review's Jerry DiPaola can tell it.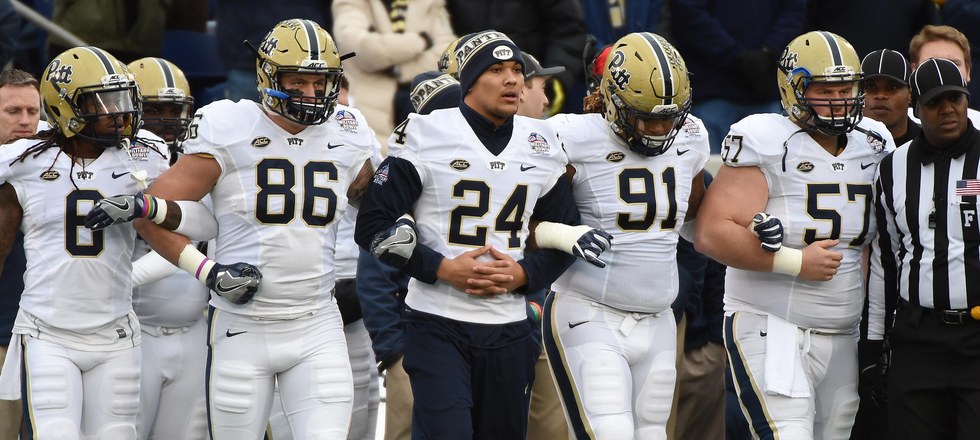 Injured and ill, James Conner joins Pitt teammates on the field prior to a bowl game in 2015. (Christopher Horner | Tribune-Review)
I'm sorry. I can't think of James Conner without seeing the sun set over Lake Erie.
People who live in or near Erie — and James proudly numbers himself among them — will tell you it's the most beautiful sight on earth.
Yeah, there's a story.
Before he came to Pitt and turned into an All-American running back as a sophomore and, Friday night, a Steeler, James was just another football player at Erie McDowell High School. Making friends, trying to make an impact, looking out for others.
His best friend and quarterback since sixth grade, Sean Gallagher, has a sister, Meghan, who five years ago was in a hospital room at UPMC Hamot, getting treatment for a kidney ailment. The room had no view of the lake.
James thought that was just plain wrong.
So, he picked Meghan out of her bed, cradled her in his massive arms, carried her out of the room and set her down in front of a window.
"The sunset relaxed her mind," James told me.
That's part of what the Steelers are getting, and he couldn't have come around at a better time for a franchise recently beset by too much bad news, up to and including the death of Dan Rooney.
That's a part of this story, too.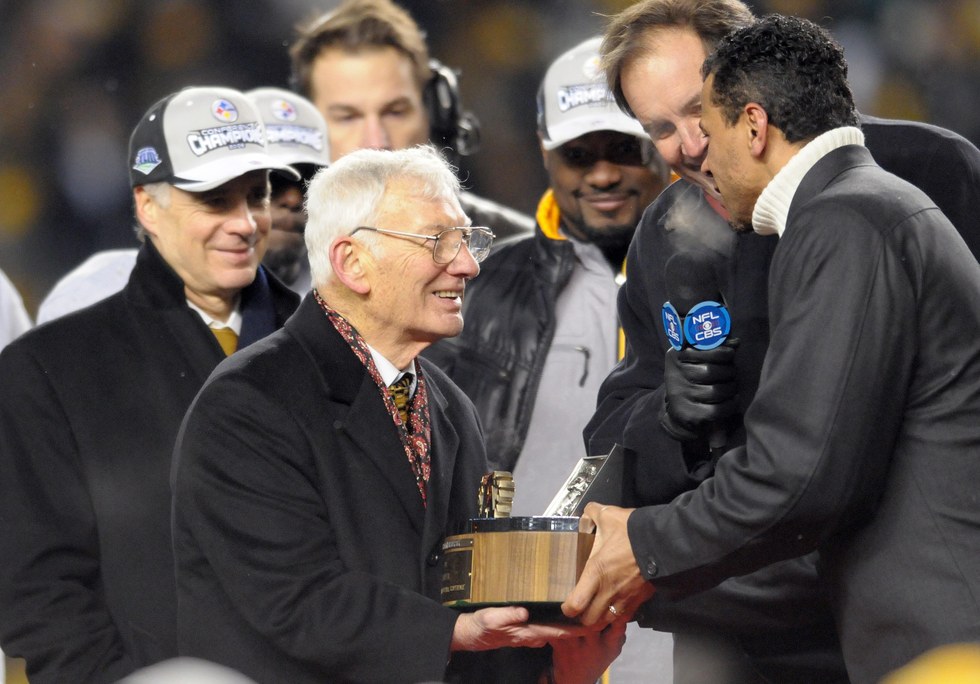 The late Dan Rooney after the AFC Championship game in 2009. (Christopher Horner | Tribune-Review)
James was in Dan's company many times at the South Side practice facility Pitt shares with the Steelers. But never as boss and employee. And were Dan alive, he and James still wouldn't have had the boss-employee relationship many people know in their companies.
Indeed, James and Dan would have shared a great, long-term relationship. Both men would have made sure of it.
Which brings me, finally, to the reason I'm writing these words the morning after James was drafted by the team that Dan helped build into the Super Bowl era's flagship football franchise.
These words are about James. They are also about the Steelers. I want everybody reading these words to realize what drafting James means for the Steelers.
James did beat cancer. He was an inspiration while battling the disease, and that fight reflected who he is and how he lives. But that fight was only a chapter of James' story.
Just. One. Chapter.
Through his wonderfully crafted Players Tribune essay, James spoke of the Pro Football Hall of Fame as a goal. He told me years ago, "The NFL is on my mind every day."
Nice to hear from a college star, but James should know that much more relevant stuff needs to happen for him to run into the most famous building in Canton, Ohio.
The easy (if fortuitous) part was getting drafted by the Steelers on Friday night. It happened three picks from the end of the third round. The Steelers selected him with a pick provided by the NFL for former players who had left Pittsburgh as free agents.
If not for that bit of largesse by the league seeking to level the playing field, James would have been on a plane to somewhere else Saturday morning, not sitting across from coach Mike Tomlin, general manager Kevin Colbert and team president Art Rooney II. (James actually did have a 10 a.m. appointment at Steelers headquarters.)
With that appointment, James was in a spot similar to one by another college star upon whom the Steelers used a compensation pick at the end of a third-round. You might remember that guy.
He is Hines Ward. And without their drafting of Hines in 1998, the Steelers may not have written the great chapter that was their first decade of this century.
You might think James would sign in blood for a career similar to Hines' Hall-of-Fame caliber tenure.
Nope.
James will gladly work to make his own mark, thank you.
On the field, James will provide the Steelers a nice complement to Pro Bowl running back Le'Veon Bell, a way to extend that possible Hall-of-Fame career by having someone else share all those carries, absorb some of those hits. James won't make many long runs in the NFL, but he'll break the spirit of some defensive backs.
Duke's 180-pound cornerback Breon Borders found that out the hard way one day at Heinz Field. With one of the same arms that carried Meghan Gallagher toward that Lake Erie sunset, James viciously stiff-armed Breon out of bounds while trying to rally Pitt to a victory.
Through the years covering Pitt's football program, I enjoyed the one-on-one, sit-down interviews with James and grew to appreciate and understand why he addressed his elders as "Sir" and "Mister." Not all of college athletes take that approach.
It's something called respect.
With James, as it was with Dan Rooney, respect is earned because it is first given.
James affords the game of football that respect, too. He prepares to play on so many levels, from practices on the field, video work with coaches, lifting weights, bonding with teammates, even walking around the offices clutching a jug of water so he'll be properly hydrated.
Unlike in college, Conner won't find many defensive backs reluctant to tackle him. I can tell him from having seen it with my own eyes, his own new teammates didn't shy from trying to tackle Jerome Bettis during his first training camp with the Steelers in 1996.
But when the collisions come for James this July, they won't be pretty. I hope James' new Steelers teammates heed my warning.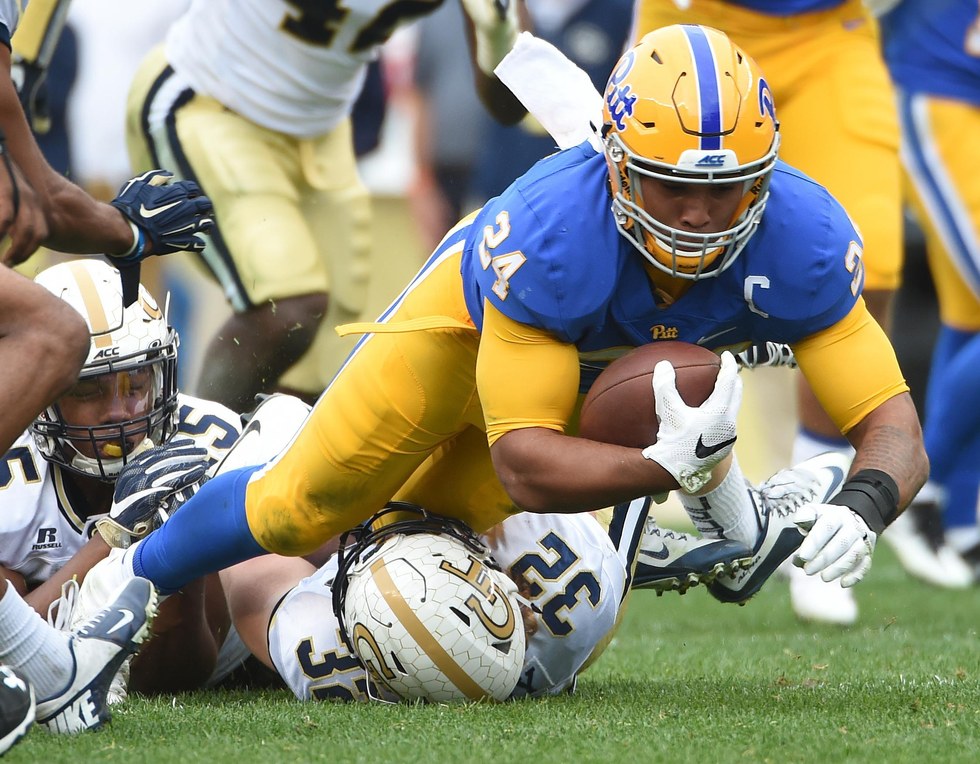 If they didn't see him doing it for Pitt at Heinz Field on Saturdays, the people of Steelers Nation will love seeing James Conner run over opposing defenders on Sundays. (Chaz Palla | Tribune-Review)
One final story.
During a spring practice session in 2014, former Pitt safety Terrish Webb, 80 pounds lighter than James, rushed up to try to tackling him. The noise of the crash drowned out any words that could be overheard, but I have always presumed Terrish said more than "Ouch."
Later, Pitt's running backs coach at the time, John Settle, told James, "Kids shouldn't play in traffic."
"It was an accident," James said, sheepishly.
Not it wasn't, James.
Nothing you do is accidental.
Jerry DiPaola has covered every level of Western PA football for the Tribune-Review

Follow tribLIVE for more coverage of Pitt football and the 2017 NFL Draft

Keep reading ...
Show less