AP
#HereWeGo ... to Kansas City
Big Ben injury blows up Bell's big day for Steelers
So, that point on Sunday afternoon when you wondered, "Uh, why is Ben still in there?"...
At least the Steelers still have Bell to ring if Big Ben cannot chime.
Le'Veon Bell needed four NFL seasons to get into an NFL playoff game. When he finally did, Bell broke a Pittsburgh Steelers' record that had stood for over four decades.
Now, that's making up for lost time.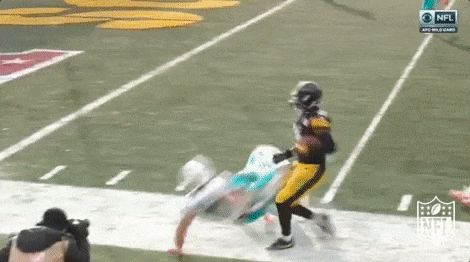 Ask not for whom I toll. Dolphins, I toll for thee.
Read all about Bell's big postseason debut here.
With their 30-12 win over the Miami Dolphins at Heinz Field, the Steelers convincingly advanced to Round 2 of the playoffs. They will face the Chiefs at Kansas City next Sunday.
Earlier this season, the Steelers thumped the Chiefs in Pittsburgh. A reminder is provided here by the Kansas City Star.
In the AFC's other division-round game, the Houston Texans will pay a visit to the New England Patriots next Saturday. The winner of that game will face either the Steelers or Chiefs in the AFC championship game.
Related Articles Around the Web