NATION
Feb. 28, 2018 01:03PM EST
THE ONION
Couldn't happen to a better city
Onion story about Cleveland having elevated sewers is ... uh ... true
Ah, Cleveland. Only you could make a story in The Onion true.
Especially one about sewage.
---
The satirical news site is famous for writing content that's so far-fetched that the casual reader can't help but realize how fake it all is.
That is until it gets to the Mistake By The Lake.
The Onion's story "Cleveland Finishes Construction On New Elevated Sewer System" reports on a "bold new infrastructure project would serve the needs of local residents through the 21st century and beyond."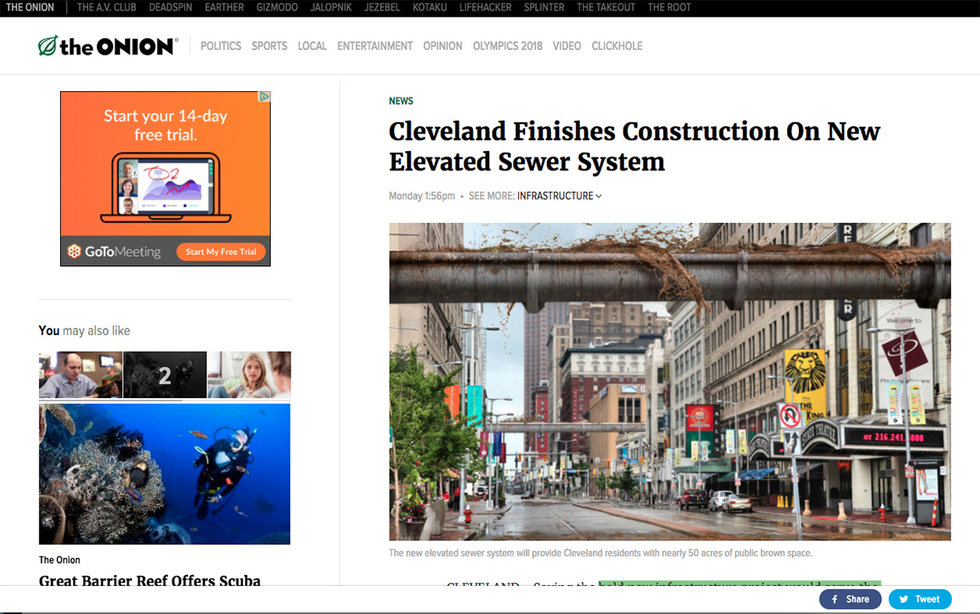 They even "quoted" (not really) Mayor Frank Jackson as saying, "Now, and for generations, Clevelanders will be able look up at these spectacular overhead canals carrying away their bodily waste and think, 'This is my city.'"

Hysterical, right?
Well, as Cleveland19.com reports, it seems that the city of Cleveland already has an elevated sewer system.
Medium reports the city has a pair of elevated sewers — the Big Creek Interceptor and Southwest Interceptor — that run over the Cuyahoga River. They date back to the 1980s. They connect to the Southerly treatment plant in Cuyahoga Heights.
"Most sewers rely on gravity for the movement of flows," says Mike Zapior, manager of Sewer System Maintenance & Operation for the Northeast Ohio Regional Sewer District. "If these two sewers remained underground and under the river, pumping stations would be needed to move the flows back up the hillside. Going above ground with a gravity sewer is more efficient and cost-effective than using pump stations and force mains to transport flows."
When The Onion posted that story to Facebook, the level of Cleveland-bashing was at an all-time high.
Related Articles Around the Web