'BURGH
Jan. 05, 2017 02:31PM EST
Get out
Here's your weekend events, Pittsburgh

Thursday, Jan. 5 @ 7:30 p.m., Friday, Jan. 6 @ 8 p.m., Saturday, Jan. 7 @ 2 and 8 p.m., Sunday, Jan. 8 @ 1 and 6:30 p.m.
Heinz Hall, downtown Pittsburgh
Part of the PNC Broadway in Pittsburgh series, this Tony-award-winning play features moments of loud music, bright lighting and strobe effects. It's also got some adult language and themes. The plot: Fifteen-year-old Christopher has an extraordinary brain; he is exceptionally intelligent but ill-equipped to interpret everyday life. When he falls under suspicion for killing his neighbor's dog, he sets out to identify the true culprit, which leads to an earth-shattering discovery and a journey that will change his life forever. Tickets start at $26.

Thursday, Jan. 5 @ 7 p.m., Friday, Jan. 6 @ 7 p.m. (SOLD OUT), Saturday, Jan. 7 @ 1 and 7 p.m.
Pittsburgh Public Theater, O'Reilly Theater, downtown Pittsburgh
It's your last chance to check out Gene Collier's play on Steeler great Rocky Bleier at the Pittsburgh Public Theater. Collier's show has Bleier himself telling his story — from being drafted by the Steelers to being drafted by the Army to serve in Vietnam. The show runs 90 minutes, with no intermission. It's appropriate for children 10 and older. Tickets $50 and $85.

Saturday, Jan. 7 @ 1-3 p.m.
Steel City Improv Theater, 5950 Ellsworth Ave., Shadyside
So, you think you're funny? Find out and auditions for the Steel City Improv Theater's longform improv Thursday night house teams.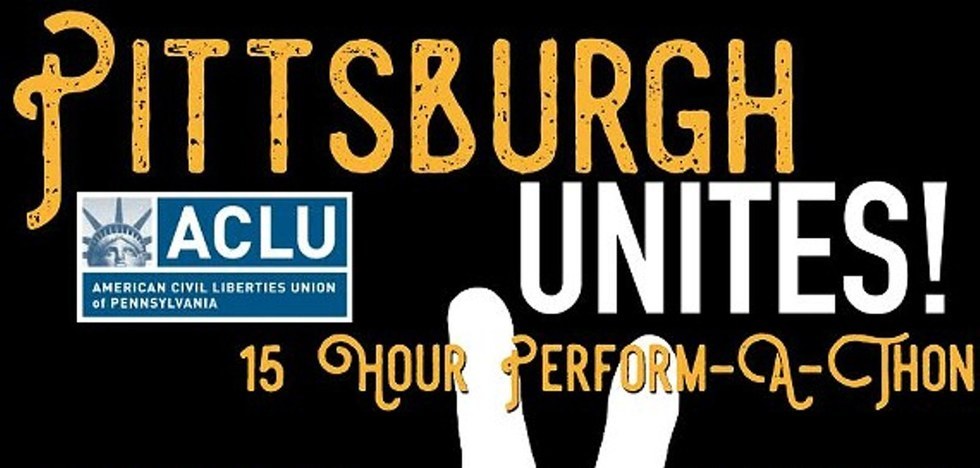 Saturday, Jan. 7 @ 11 p.m.-2 a.m.
James Street Gastropub & Speakeasy, 422 Foreland St., North Side
According the event's Facebook page, this is "a peaceful and positive fundraising event. ... It is an opportunity to celebrate our differences, unite as friends and allies, and promote the protection of civil liberties for our community." Expect 15 full hours of the Pittsburgh area's singers, musicians, actors, contortionists, go-go dancers, storytellers, drag queens, DJs, comedians, gymnasts, poets, burlesque performers, performance artists, bellydancers, jugglers, preachers, drag kings, magicians, bands, dancers, sideshow performers and more. Tickets are $15 ($16.52 w/service fee).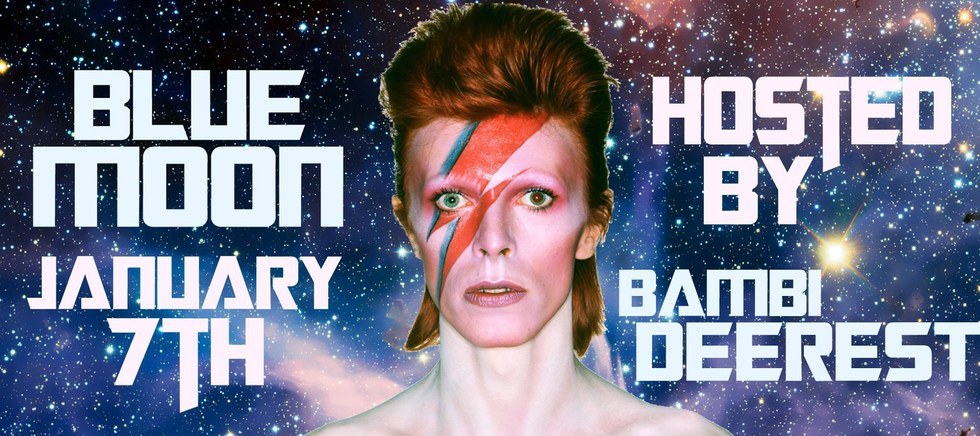 Saturday, Jan. 7 @ 11:45 p.m.
Blue Moon, Butler Street, Lawrenceville
Are you a "Rebel, Rebel"? Going through some "Changes"? It's one year gone since we lost David Bowie, and the pain obviously hasn't ebbed for the folks at Blue Moon — one of Pittsburgh's hottest LGBTQ bars. So, they're throwing a Bowie party and asking you to come dressed as your favorite Bowie — be it's "Blue Jean" or as a "China Girl." The night will be hosted by Bambi Deerest.
If that's not enough for ya (and why the hell should it be?),
check out Seven and the City for more ta do.