Nov. 08, 2016 06:58PM EST
A yuuuge win
So, there it is. What began more than 500 days ago is now done.
Donald Trump's bid for the White House has reached its endgame.
Rise and shine
Appropriately, Trump began Election Day with a tweet*:
(* OK, we have no clue whether or not Trump is really the one behind his tweets anymore. But we're gonna go ahead and play the game assuming it's him.)
Trump was expected to split time between his Trump Tower home and the New York Hilton Midtown (a few blocks away). That's where his victory party was planned.
Hitting the polls
The New York Times reported that Trump seemed in good spirits as he arrived with wife Melania at a polling place in the Upper East Side of Manhattan just before 11 a.m.
The crowd outside wasn't as receptive as the billionaire is used to:
Yep, those are boos — the crowd is not chanting "Heeeeeeaaath!"
Inside, the cameras were rolling as Trump cast his ballot.
However, when he snuck a peek at Melania's screen, Twitter got an early treat.


And then there's Eric
Trump's second son Eric kinda got a bit overzealous with his voting and tweeted out his ballot. Uh, that would be a no-no, Eric. While he deleted the tweet, The Verge was able to screengrab it for everyone.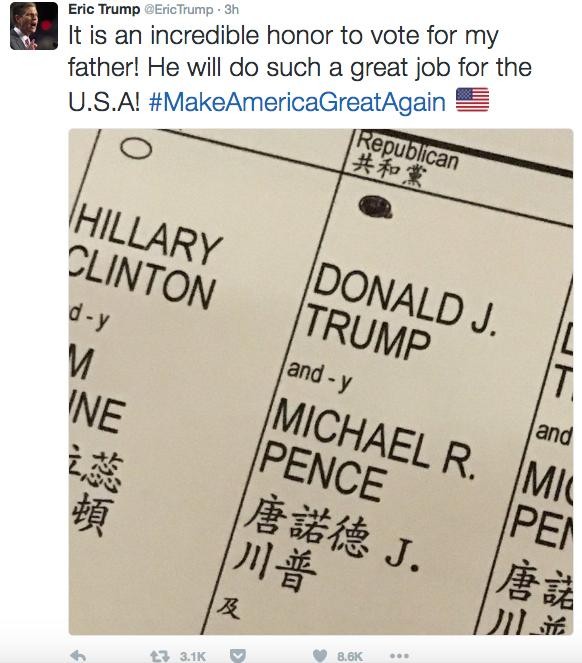 In New York, selfies of your ballot are illegal, although only a misdemeanor. An 1890 New York law bans voters from showing marked election ballots to others. A federal judge ruled last week that the law applies to social media posts. Reps for Eric Trump and the New York City Board of Elections did not immediately respond to calls seeking comment.
BTW, ballot pics are legal in Pennsylvania, but only after you go outside of the polling place.

Lookin' good
Meanwhile, his brother, Donald Jr., was keeping a close eye on those nice enough to cast a ballot for his father, retweeting: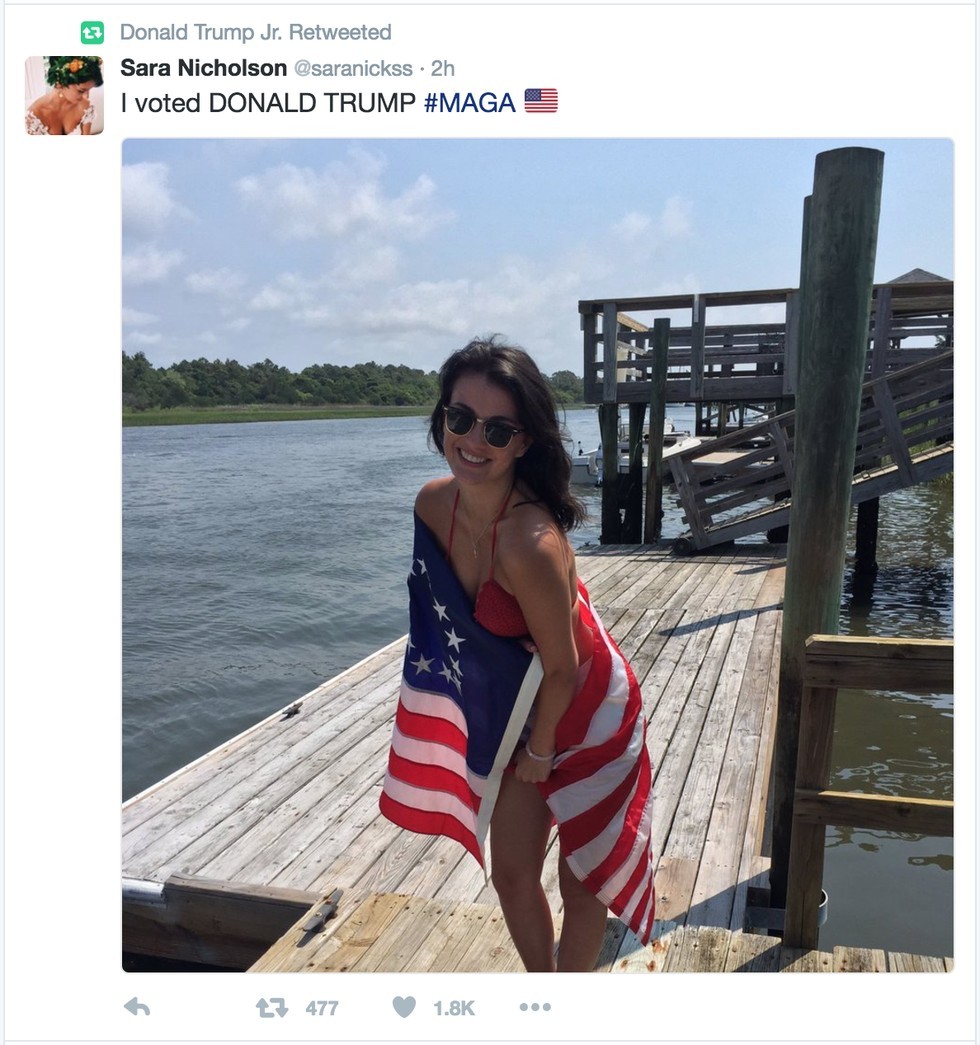 Trump headed up to his office in Trump Tower to do some busy work, and to tweet out a message to voters:


Can't let 'em slide
From there, Trump rekindled his unsubstantiated concerns about a rigged election system. Asked Tuesday afternoon on Fox News if he would accept the election results, Trump continued to demur.
Issues with voting were being reported in several spots across the country.
ABC News reported that Election Protection, a non-partisan voter protection coalition, held a press conference in Washington, D.C., on Tuesday morning to report an increase in hotline calls about voter intimidation and harassment.
The group said about 80,000 voters have contacted them so far; they expect a total of about 175,000 by the end of the day.
Trump was on the voter issues like white on rice:
Bracing for impact
With an election this volatile, you have to always be prepared. To that end, protection showed up around Trump Tower in Manhattan.
Settling in for the results
Trump figured he would retreat to his lair to view the proceedings:
Somewhere after 6 p.m., Trump's Twitter feed got rather quiet, but his director of social media, Dan Scavino, happily reported the first results of the night.

Take the cake
And these bakers decided to get a head with this crazy-ass cake for a Trump victory:
Junior Pitchman
Donald Jr. took to Trump Tower Live to urge voters across the country to make sure they head to the polls:
A night's entertainment
Who doesn't love a serenading mariachi band:
The War Room
Tweets emerged from Trump's nerve center at Trump Tower:
Sensing the victory
As the night moved on, tensions at the Trump camp eased — as can be seen as Mike Pence and Eric Trump share a happy moment:
Even David Duke was feeling the joy of having a President Trump:
And Little Havana was popping the bubbly:
Prepping for The Speech
The moment he's been planning for
With a phone call, it happened: