'BURGH
Jan. 11, 2017 07:02AM EST
terrifying
When the gunman opened fire in Fort Lauderdale-Hollywood International Airport, those who could run did just that.
"I heard a commotion behind me, and I turned around and there was a pack of people. I can't even describe their faces — just scared — sprinting towards me," said Hallie McCue, a member of the Duquesne University swim team. "I got up, and someone screamed, 'Get down!' And somewhere in the midst of all this I heard gunshots. I don't know how many. I don't remember. It's such a blur."
McCue, a senior from Rocky River, Ohio, and two other Duquesne swimmers — freshman Lauren Devorace, also of Rocky River, and junior Shelly Heim of Greensboro, N.C. — were in Terminal 2 on Friday when, authorities say, Iraq war veteran Esteban Santiago, 26, began randomly shooting people.
The Duquesne women's swim team was in Florida for a nearly two-week training and team-building trip, university officials said. The students were traveling to their respective homes before classes resume next week. Two other team members were in the airport but in a different terminal. Coach Dave Sheets and several other swimmers had later flights and were at area hotels.
The swimmers in Terminal 2 were at their gates, one floor above baggage claim where five people were killed and six others were injured in the shooting spree, writes Chris Togneri of the Tribune-Review. The swimmers described panic and chaos as travelers ran for their lives.
"There were so many of us by the gate that I was pushed under the seats," McCue recalled Tuesday at Duquesne University. "There were a lot of us, so I had someone on top of me, holding my face down. My face was right next to one of the stabilizer poles (under the seats), and right in front of my face was a little girl. She was screaming and crying. I looked at her and said, 'We're going to be OK. We will get out.'"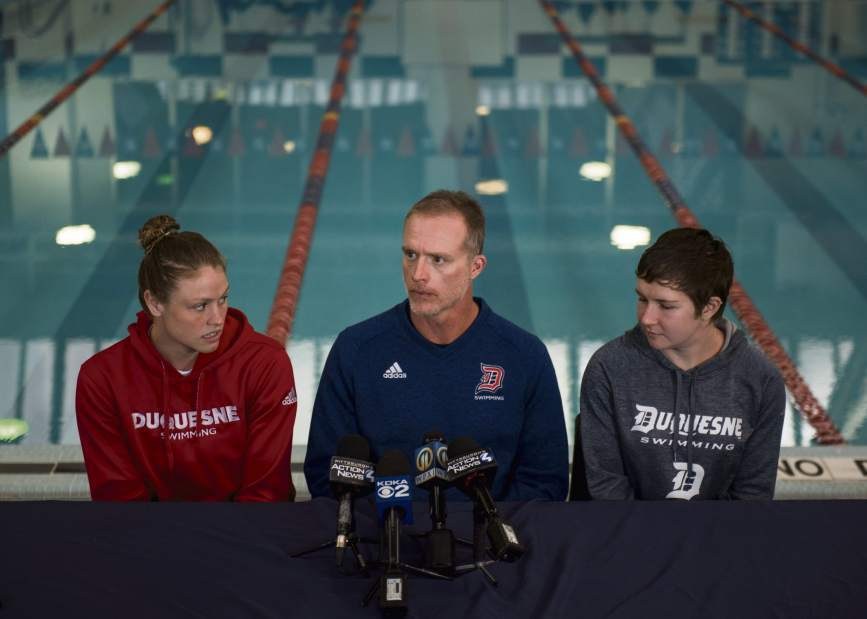 "My face was right next to one of the stabilizer poles ... and right in front of my face was a little girl. She was screaming and crying. I looked at her and said, 'We're going to be OK. We will get out,' " said Hallie McCue, with her coach, Dave Sheets, and teammate Shelly Heim.
Back at the team's hotel, Sheets began receiving urgent texts and phone calls.
"We had one swimmer that was hiding under a table that could not answer my phone call," Sheets said. "I texted her: Wherever you are, stay where you are. Wait until the authorities come and get you."
Shelly Heim was reading a book at her gate when she heard the sound of people screaming and running.
"You never expect that in an airport," she said. "It was a very surreal thing to turn around and see a mob of people coming at me."
She ran toward an emergency exit, but it would not open, she said.
"There was a whole flood of people behind me, slamming against me," she said. "People were climbing on top of me. Nobody knew what was going on."
Someone opened the door. Heim helped a woman on the ground to her feet, and they ran out onto the tarmac.
McCue and the little girl also ran onto the tarmac. She stayed with the girl until her mom found them 30 or 40 minutes later.
The mom, who did not speak English, hugged and kissed McCue when she was reunited with her daughter, McCue said.
Devorace, who has not returned to school, was in line for pizza when the gunfire erupted, McCue said. She and other customers jumped behind a bar and hid.
"The absolute scariest part was trying to call Lauren and she wasn't answering and getting the text from her that said, 'I'm hiding, I can't call,' " McCue said. "I didn't know how long she would be in there or where she was. I didn't know (the gunman's) intentions."
McCue and Heim saw each other on the tarmac but could not pass security officials to reunite. So they told airport police they were sisters. When they reached each other, they hugged and McCue cried.
Back inside the terminal, they found a scene of chaos: rows of chairs askew, opened luggage everywhere, half-eaten meals on the ground and scores of eyeglasses that had been crushed in the stampede.
The doors all were guarded by men with guns, they said.
They were not allowed near the area with the bodies.
"I am so thankful to be here," Heim said. "It could have been anyone in that airport. It makes me feel so bad for those who didn't (get out)."
One by one, Sheets gathered his swimmers until all were accounted for.
He brought them back to the hotel, where McCue and Heim could not bring themselves to watch the coverage on television.
"We barely talked about it the rest of the night," McCue said.
Two days later, they flew out of Tampa to return home.