a rob rossi column
Here's the thing about words: They matter.
They can be false, inauthentic or even exceedingly unbelievable. Even when authoring an unreality, the reality with words is they matter.
People fall for words.
More than actions, if we're being honest. (These days more than ever.)
Which is precisely why Ben Roethlisberger only talked about retiring Tuesday. To do anything other than talk would have been a waste of his time.
And the guess here is Roethlisberger feels as though enough of his time has been wasted.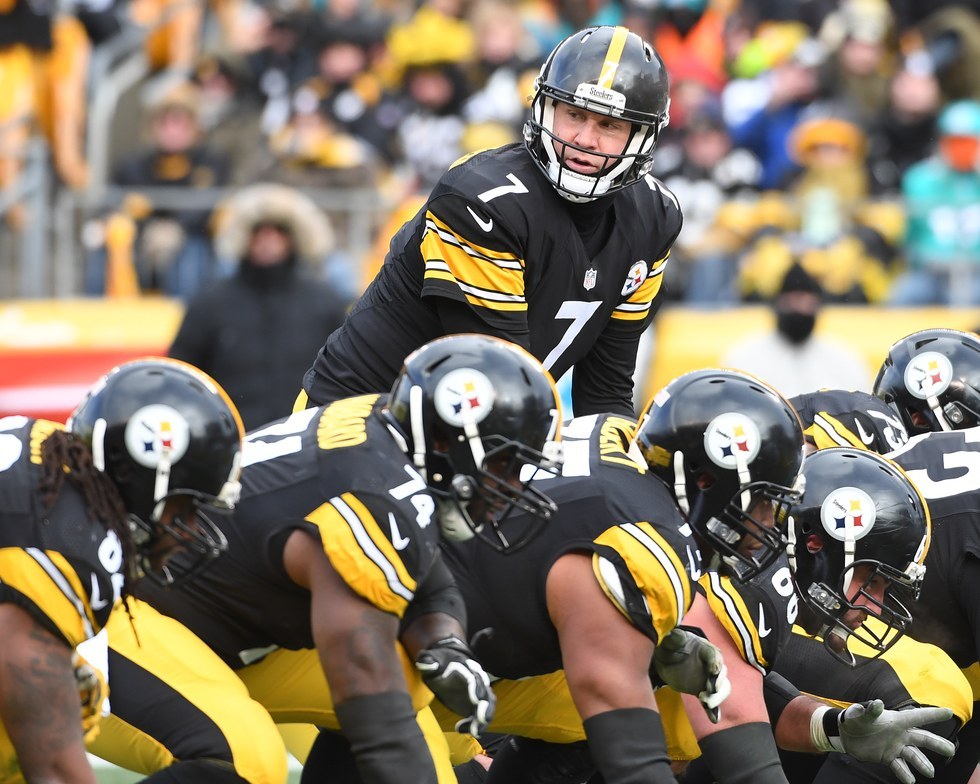 The Steelers have won playoff games in only four of the past 10 seasons. (Chaz Palla | Tribune-Review)
This past Sunday marked the end of a sixth straight season without the Steelers playing for a Lombardi Trophy. Considering he won two of those in his first five seasons, a half-decade drought must have left Big Ben with a big thirst.
Usually, Roethlisberger would publicly cull criticism and absorb by himself any blows that come from all directions when a flagship franchise such as the Steelers isn't on the right side of results. But on Tuesday, he discussed calling it a career and directed criticism — albeit soft criticism — at Steelers' coaches and teammates.
Clearly, these are not usual times.
Not as clear -- because in sports, time moves fast enough for us to suspend belief -- is that time is running out on one of the greatest Steelers.

Roethlisberger, despite wins in only half of 10 postseason games since his last Super Bowl win (not to mention 11 interceptions to go with 10 touchdowns), is a Top 5 Steeler. He also will be 35 in about six weeks.

For a father of three, he's awfully young. For a championship quarterback, he's getting awfully old.
He is already too old to withstand many more losses like his latest. No type of physical battering (and Roethlisberger has taken more than his share) leaves a bruise that heals slower than losing a football game in late January.
You might have heard Roethlisberger say before that he'll never get over the Steelers' loss in Super Bowl XLV. Well, that loss came in February 2011 — and Roethlisberger wouldn't be a professional athlete if he didn't feel its sting forever.
The losses linger long past the wins. Ask anybody who ever competed for anything.
Roethlisberger can only make up for his lone Super Bowl defeat, and he can only accomplish that by winning the ring that would separate him from almost every other quarterback from the past half-century.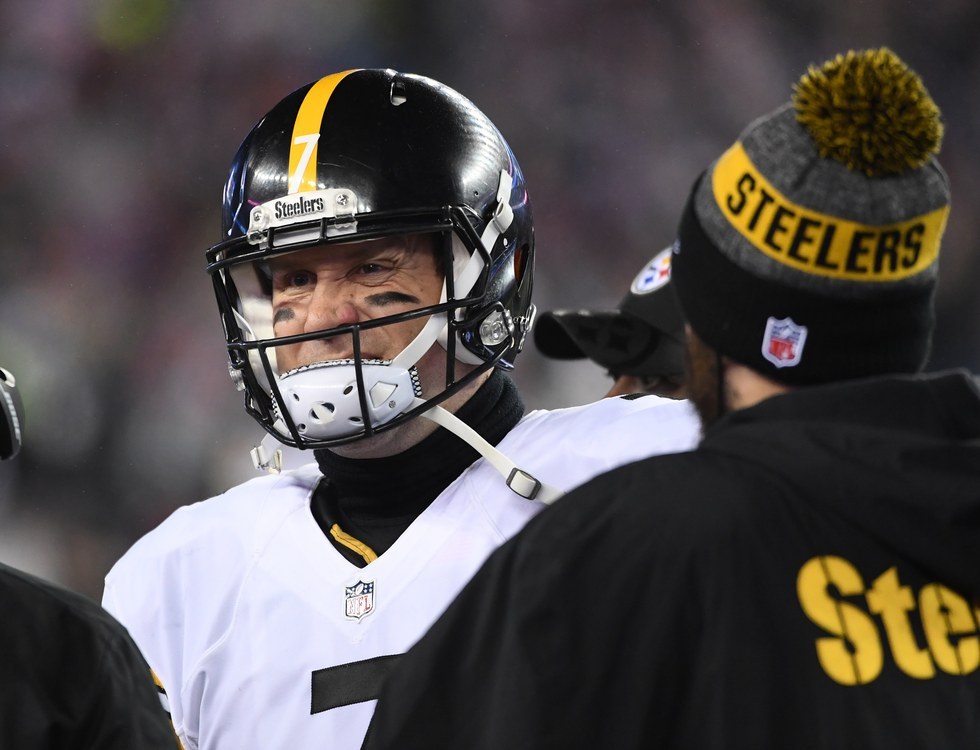 Ben Roethlisberger is one of three current starting quarterbacks with multiple Super Bowl wins. (Chaz Palla | Tribune-Review)
Tom Brady. Terry Bradshaw. Joe Montana. Troy Aikman.
They're it. They're the list of quarterbacks with three or more Super Seasons.
Only Brady produced one after his 35th birthday.
Brady being likely on his way to churning out another can't be encouraging to Roethlisberger, either.
After all, who was it that wrecked Roethlisberger's Sunday night? Who is it the Steelers can't beat?
It's Brady.
Oh, it's all about Brady for Roethlisberger.
Has to be, and Big Ben had to have Tom Terrific in mind when breaking form during his weekly radio show Tuesday.
Walking off the soggy turf at Gillette Stadium on Sunday night, Roethlisberger would have been right to assess that the gap between his Steelers and Brady's Patriots has never looked larger.
It seems big enough to swallow a lighthouse. It seems to be widening, too.
Rarely have the Patriots been more convincing in a win over the Steelers, who were only ever close in the AFC championship because of Roethlisberger.
His best receiver was the football equivalent of MySpace. His other receiving options were either dropping sure scores, failing to get open or not falling forward far enough. His do-it-all back was unavailable (again). His coaches were out-schemed, if not out-sensed.
Of course, had none of that happened, Roethlisberger still would have spent Tuesday looking toward the offseason. That's because his defense did its best impersonation of President Trump's former Republican challengers — never adjusting and thus never standing a chance of stopping the assault.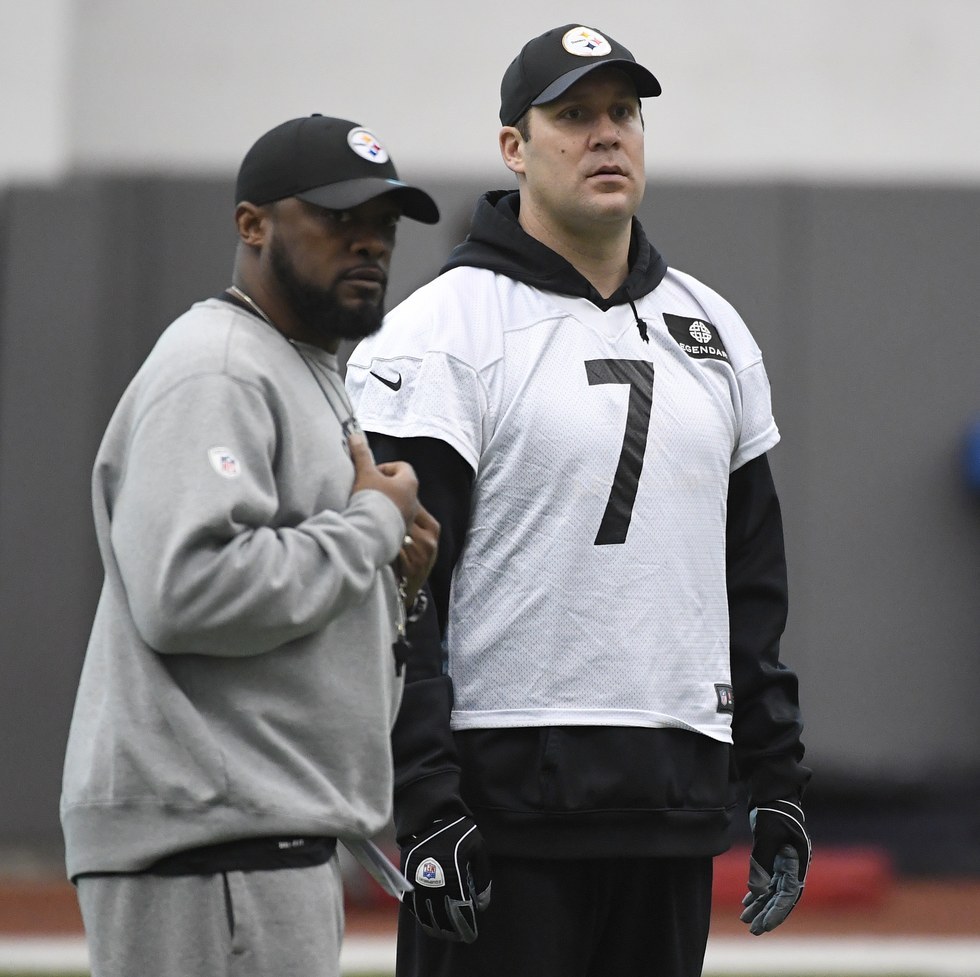 Mike Tomlin traded his "43" defensive background for a future Hall-of-Fame quarterback. (Chaz Palla | Tribune-Review)
As losses went, the Steelers' on Sunday night bore a resemblance to the Democrats' defeat this past November.
It was staggering enough to create disillusionment among the most key players.
For the Steelers, there is only one main player.
It's Roethlisberger.
And Tuesday was not too soon to say something that would stagger the traditionally same-old Steelers organization. For all the ways Roethlisberger's talk of retirement can be taken, everybody within the Steelers should see it as a cry for help from their only irreplaceable asset.
Three playoff wins in six years is no "standard." Rather, it's a signal that some standard-issue parts of the Steeler Way should be at least re-evaluated.
Perhaps going back on a promise to extend Antonio Brown's contract would be wise given his demands, behavior and the team's other needs? Maybe transitioning on defense to a version of "43" from the "34 zone-blitz" would be better? Possibly the time has come to shake up coach Mike Tomlin's staff?
Something significant is needed for the Steelers. A few things, actually.
However many that number, the Steelers do not have time to waste.
Not because Roethlsiberger is talking about retiring.
It's only talk. Roethlisberger taking snaps for the Steelers is how next NFL season will begin.
But it's time for a different ending than one we've seen since routinely since the beginning of the Obama administration.

And if Roethlisberger speaking out about whatever Tuesday forces the changes needed for that ending to play out, the Steelers should consider themselves lucky.
They need to make his words matter.

Rob Rossi is our sports editor. Follow him on Twitter.